If you want to order manually, you can order our full Ready Design range, tweak some of our Ready Designs, order your own Custom Designs, or mix a range of them together. Please use our order forms for manual processing.
This is the Bali Swim bulk order form and below you'll find instructions on how to fill it in. If you got any questions at all – feel free to click the chat button in the bottom right corner or write to your assigned rep via email.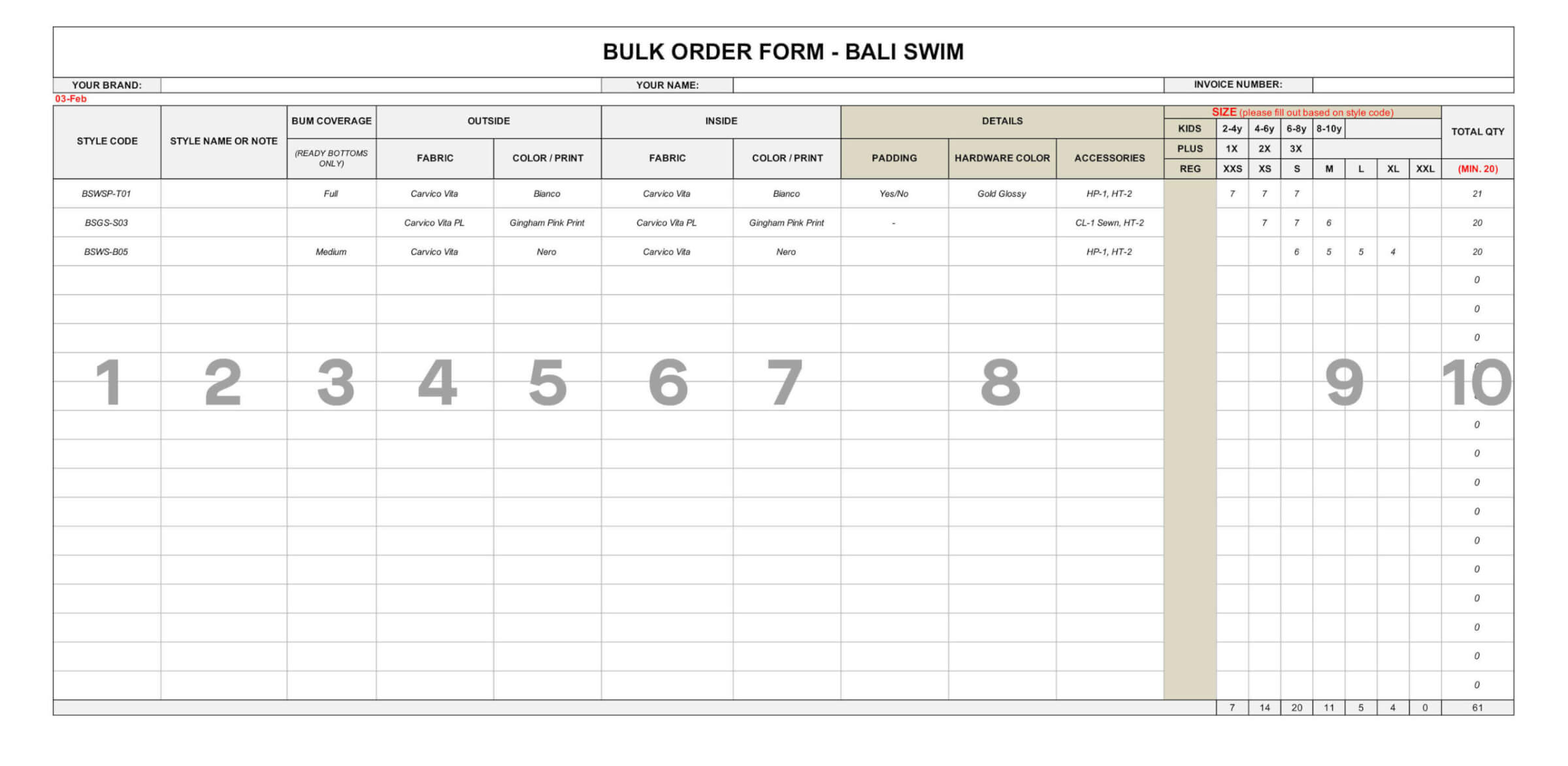 Column 1: Style Code
This is simply a short code for your style. E.g, If my brand was called Super Swim and this is my first style, I may call it SS01.
Column 2: Style Name or Note
Give your particular style a name. It's not a must, but can be helpful to describe the style to yourself and us, your manufacturer. Note, could be a comment on the design or a detail for the sample order.
Column 3: Bum Coverage
Only for Ready Designs – mark down the bum coverage you like: full, medium or cheeky (only for swimwear).
Column 4: Outside Fabric
Choose the fabric you want on the outside of the product. See our fabrics here.
Column 5: Color/Print
Choose the color or print you that want in your chosen fabric/s.
Column 6: Inside Fabric
What fabric do you want on the inside? Most often it's the same fabric as on the outside. If the outside fabric is a textured fabric however the inside should be flat: E.g. Outside is Carvico Pantelleria and inside is Carvico VITA; or outside is Bali Swim Crinkle, inside Bali Swim Matte. If outside is printed VITA PL then inside is usually Carvico VITA, you are welcome to change the fabric combination depending what fabric you use for the rest of the collection.
Column 7: Inside Color/Print
Inside color is most frequently the same color as the outside. But it can also be a matching tone, e.g. Outside is Carvico Ibiza in Bianco and inside is Bali Swim Matte in White. It's not very common that you use prints on the inside as it can make the product more expensive.
Column 8: Details
This is where you put down details of the product you ordered. Additional add-ons like padding, hardware color if any, and accessories like heat press label or lining sticker.

Column 9: Size
Here you decide how many of each size that you want to order from each style. Our range is set at XXS-XL but you can adjust this to whatever is suitable for you. When ordering please mention if you are using our size chart, or your own. We recommend that you get more sizes in the center of your sizes. E.g. If your range is XS-L you may want to order 5 XS, 7 S, 7 M, 5 L. But remember that this depends on your target market, your fits, etc.
Column 10: Total Qty
For each style and color or print. Remember that for each row in this bulk order form, you must order a minimum of 20pcs – which satisfies our bulk MOQ, like in the example given.
Ready?
Please send your bulk order to [email protected] when completed.