Timeless Sophistication: 5 Swimwear Styles Radiate the Classy Look
Relating to beach fashion, nothing shows elegance and sophistication like a classy and refined swimwear collection. In this blog post, we'll reveal some stunning swimwear styles from our Women's Swim collection that give your customers a chic and high-end look. From sleek one-pieces to stylish bikinis, discover the key pieces that will elevate their beach style to new heights beauty.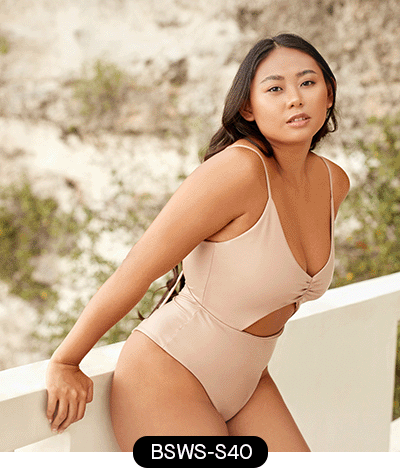 The Timeless One-Piece: Effortless Elegance
Indulge in the epitome of sophisticated swimwear with our haltered one-piece of BSWS-S45, this design combines a sleek high neckline with adjustable shoulder strap that also acted as closure, adding a touch of elegance to your customer's beach attire. For those seeking a fun yet classy look, our BSWS-S40 peek-a-boo one-piece offers the perfect balance. With carefully crafted cut-outs in all the right places, this swimsuit exudes an air of allure and exclusivity. If flexibility is your customers' want, our adjustable cup one-piece from BSWS-S48 is the ultimate choice. Its adjustable cups provide a customizable fit, allowing them to showcase their expected level of sophistication while maintaining comfort. Embrace these stunning one-piece options and effortlessly embody a classy yet expensive aesthetic for your customers' next beach getaway.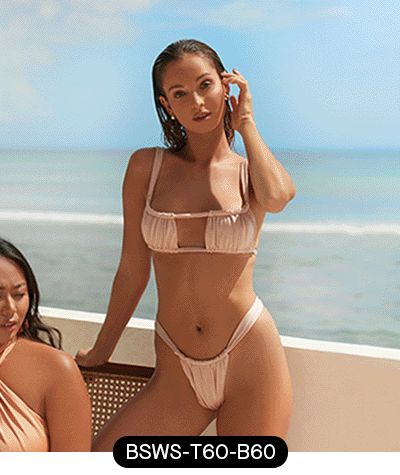 The Sophisticated Bikini: Minimalism Meets Luxury
Elevate the beach style to new peaks with our BSWS-T60-B60, featuring a keyhole bikini top with an adjustable cup and tie strap, paired with our wide strap bikini bottom offering adjustable coverage. This combination brings a classy and exclusive look that provides the perfect fit tailored to your preferences. For a touch of chic sophistication, our BSWS-T62-B62 shows a halter bikini top adorned with a chain knot detail, perfectly complemented by the captivating charm of the chain-knotted bikini bottom. Furthermore, embrace asymmetrical elegance with our BSWS-T83-B83 through an asymmetric bandeau bikini top paired with the alluring appeal of our Brazilian bikini bottom. With these exquisite options, you can effortlessly embody a sense of luxury and sophistication, ensuring your customer's beach attire stands out in the most glamorous way possible.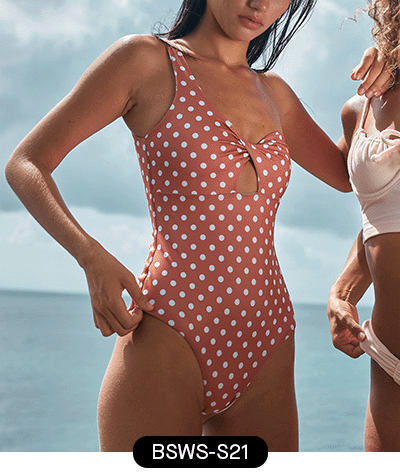 Retro Chic: Nostalgic Elegant Reimagined
Transport your customers to a sphere of retro chic and nostalgic elegant with our BSWS-S21 and BSWS-S47 swimsuits. The BSWS-S21 is a stunning one-shoulder swimwear featuring an asymmetrical shoulder strap and gathered side seam on the bust, reminiscent of vintage Hollywood indulgence. This timeless design shows elegance and sophistication, evoking a sense of nostalgia that perfectly captures the essence of retro chic. Moreover, our BSWS-S47 ruched halter one-piece is an ideal selection. With its ruched detailing and halter neck, this swimwear embodies the timeless elegant of old Hollywood, bringing a sense of nostalgic charm to your collection.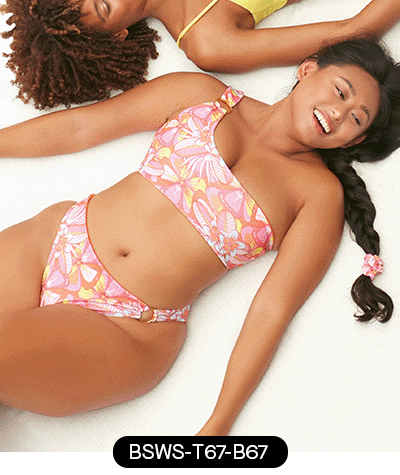 The Power of Prints: Artful Patterns and Designs
The BSWS-T70-B70 set features a tie-knotted bikini top paired with a cut-out bikini bottom adorned in the vibrant Retro Garden print. This captivating style shows artful patterns and designs that add a touch of elegance and sophistication. For a chic and lively vibe, the BSWS-T67-B67 in an O-ring one-shoulder top and O-ring bikini bottom, beautifully crafted in the eye-catching Paisley Summer print. Embrace the artistry of swimwear fashion with our BSWS-T78–C07, featuring a wide straps triangle top and an adjustable gathered cover-up, both adorned in the captivating Abstract Scape print. These swimwear options celebrate the power of prints, infusing your customer's beach attire with artful patterns and designs that are assured to make a statement with elegant look.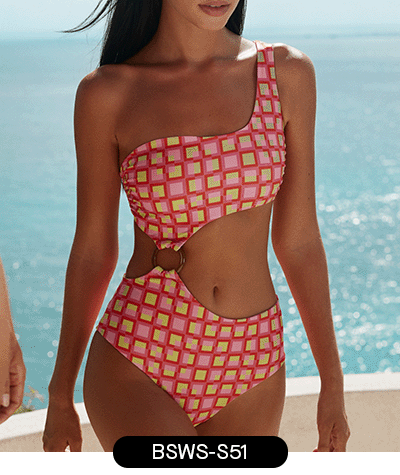 Accessories for the Finishing Touch
Complete the refined beach fashion statement with our luxurious swimwear options, complemented by cultivated accessories. The BSWS-S51 is a lovely asymmetric cut-out O-ring monokini, a one-shoulder design connecting O-ring detail and strategically placed cut-out. Its high-rise silhouette brings elegance and confidence. Pair it with our BSWS-T90-B90 set, which includes an O-ring plunge bikini top with a plunging V-neck and a high-rise bikini bottom featuring a waist overlay with an O-ring and ruched detail. This meticulously crafted swimwear is high to the next level with the addition of accessories that exude luxury and refinement. With these final touches, the beach vacation will transform into a sophisticated fashion statement that captures the essence of luxury and elegance.
Always,
Your Bali Swim Team