Trends and Projections in the Global Swimwear Market 2023 - 2032
We all love to wear our swimwear as costumes for engaging in water activities like swimming, water sports, surfing, water skiing, and even sunbathing. Today, the swimwear market isn't exclusively for jumping into the pool or beach but is becoming a fashion statement. 
Women like to hang out in their swimwear by the poolside or the beach for hours, which is why the swimwear they wear must be functional, stylish, and suit their personalities. This leads to an increased demand for swimwear, which has grown exponentially in recent years.
The global swimwear market was valued at just under $20 billion in 2022 and is projected to achieve the $30 billion milestone in a decade. This means growing at a CAGR of 4.5% from 2023 to 2032.
According to the National Sports Participation report, swimming was the top outdoor activity for Australians in 2014. Almost 50% of children at age 6 to 13 and 10% of people at 14 years old and above participate in any swimming activity. Also, the ever-increasing rate of lifestyle goods combined with a rising preference for swimming as a recreational activity boosts the swimwear's growth in the global markets.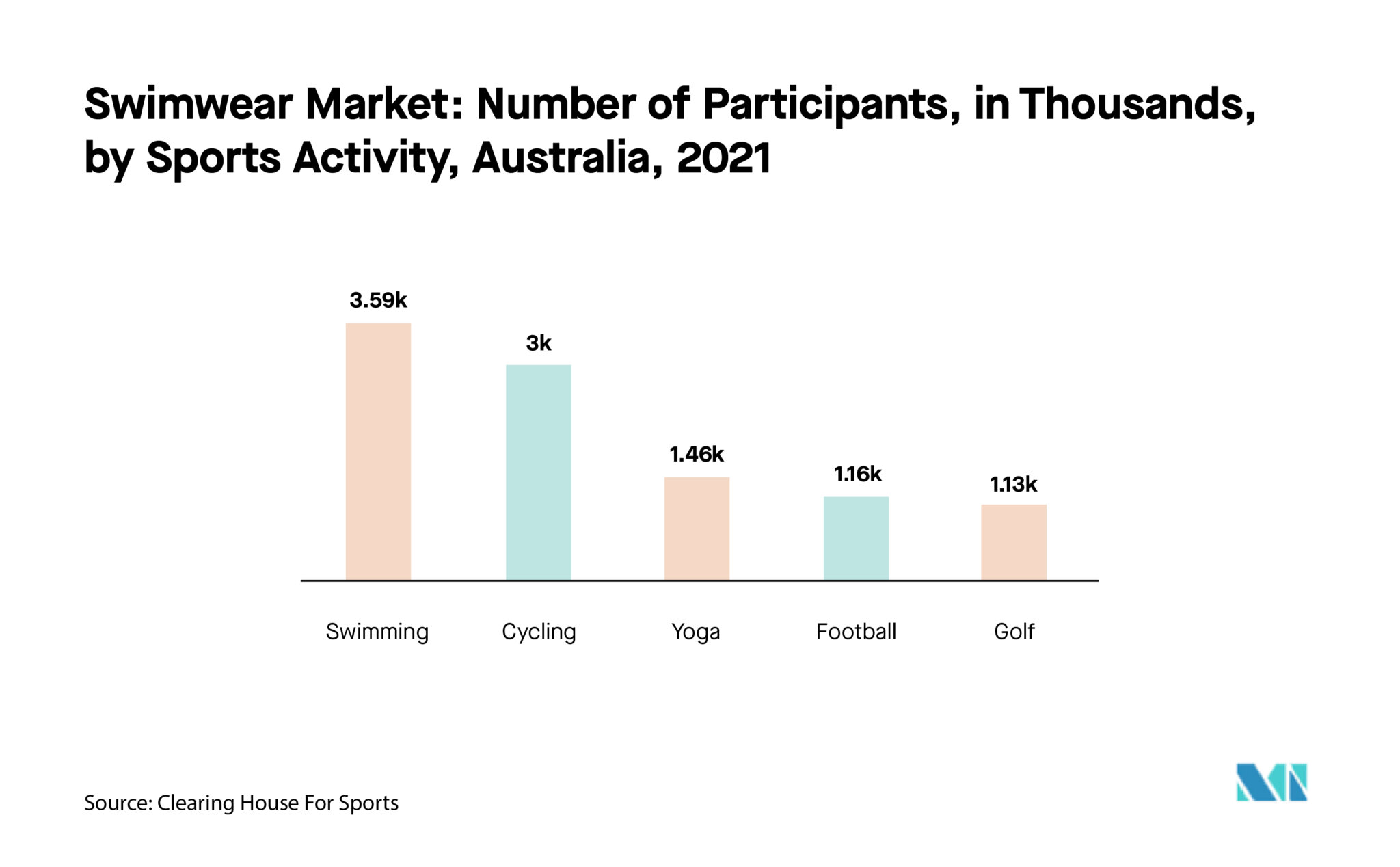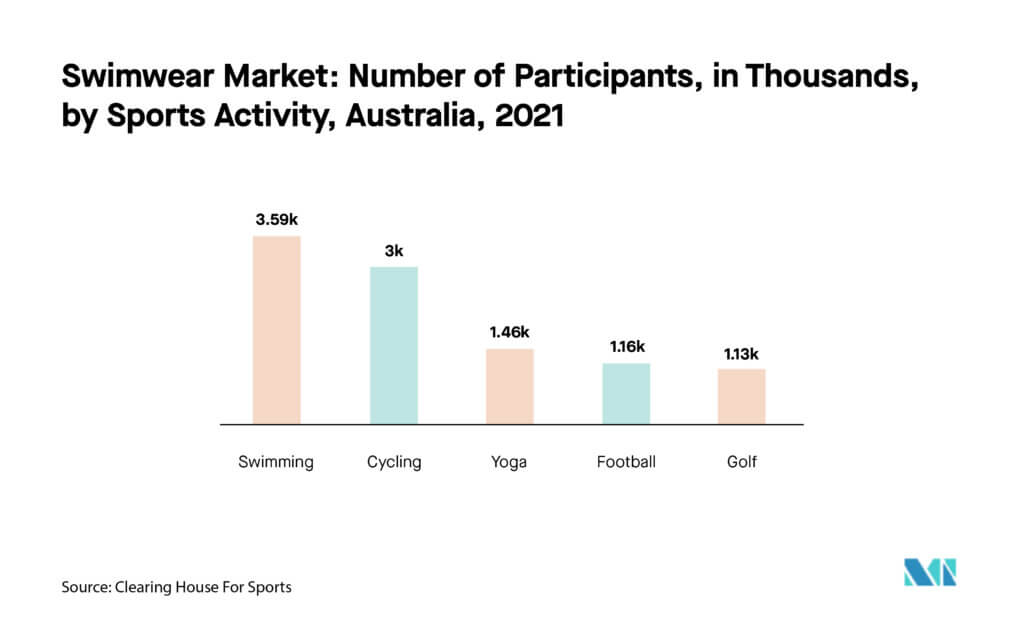 Product innovation mostly drives the global swimwear industry's growth. The ever-changing fashion trends and disposable income caused people to buy more modern and designer swimsuits, especially multifunctional cover-ups and one-piece swimmers, highly regarded as fashion statements. 
Swimwear vendors also continuously innovate their products and designs for all kinds of customers, which include health benefits, better fit, advanced UV protection, and lightweight fabric.
Sustainable fabrics have truly taken over the swimwear scene in recent years, and it looks like they're here to stay. Materials like Econyl, Repreve, and recycled polyester have revolutionized the industry, offering comfort and durability that rival traditional fabrics. Not only are they resistant to the wear and tear of frequent use, sunlight, chlorine, and pool chemicals, but polyester, being hydrophobic, even repels water. This means quicker drying times, ensuring your customers stay comfy and chafe-free.
Chantell Fenton, a senior trend forecaster at WGSN, emphasizes how sustainable swimwear has become a focal point in the fashion conversation. "Brands are now more confident in sharing their commitment to sustainability," she notes. Thanks to the availability of high-quality recycled materials like Repreve and Econyl, it's seamless to incorporate them into swimwear designs. In fact, they're virtually indistinguishable from synthetic materials. Fenton envisions a future where virgin materials become a thing of the past, particularly in the realm of swimwear.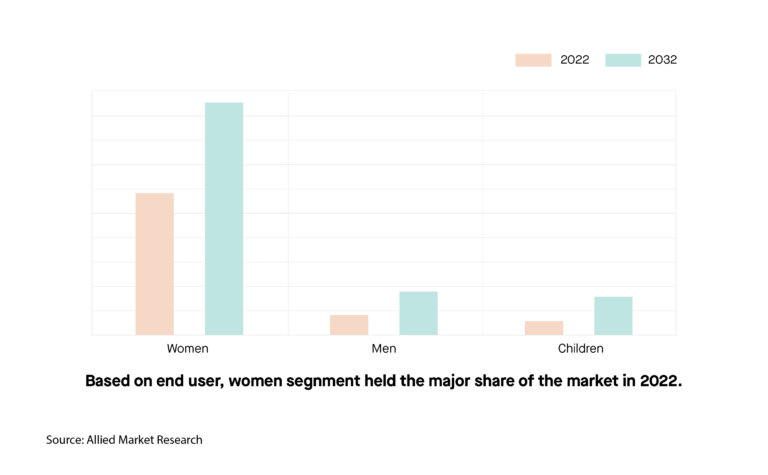 Based on end users, the women's segment in 2022 significantly dominates the global swimwear market and is believed to continue to do so in the coming decades. This includes bikinis, tankinis, bottoms, one-pieces, and others. 
Swimwear models with racerbacks, higher necklines, and other athletic accents are gaining popularity among women looking for functional and stylish swimwear. As women's swimwear increases in demand, manufacturers continue to invest in developing and researching cost-effective and fashionable pieces for women.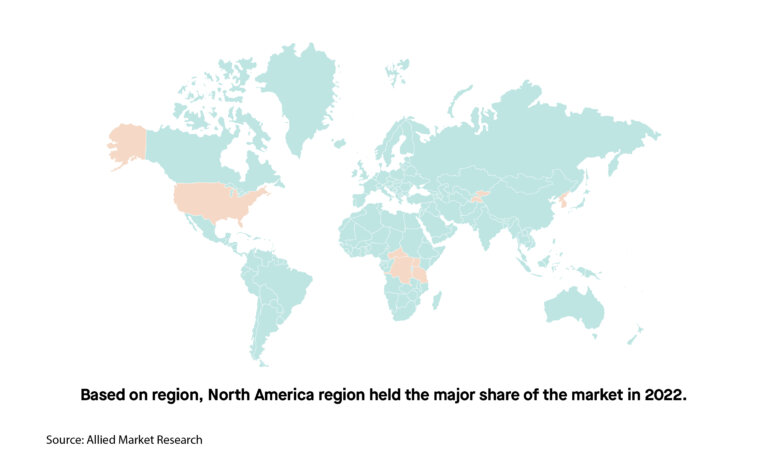 When it comes to region, North America ranks as the top market in 2022 and is projected to do so in the upcoming years. The rapid growth in the population who want to live a healthy lifestyle with an interest in sports and fitness activities drives the development of the market. 
Further advancements in designs lead to elevated comforts along with performance boosts, which help attract sports and fitness lovers. There's a growing interest in wellness and fitness in North America, and as consumers seek out swimwear with athletic features, it is expected to propel the growth in the region's market.
Anticipate the ever-changing swimwear market trends with Bali Swim
We've done our homework here in Bali Swim and anticipated the ever-changing trends that will likely flourish in the industry. Based on our research, our products will likely be the next big thing in the swimwear market, including the Women's Swim Ready Design 2024, Men's Swim 2022, and Kids' Swim 2022. Check them out in our online store and stay ahead of the trend for years to come!
Always,
Your Bali Swim Team
Get into the nitty gritty of all our designs on offer and learn more about how to customise your luxe label.