How to Start a Swimwear Line, That Lasts
At Bali Swim we have worked with hundreds of designers and brands to kickstart their swimwear lines – or to develop them further. They have come in all shapes and sizes, targeting many different markets, and with very different styles.
This wide range of experience, designers and brands has taught us a lot. But not only that. Watching them succeed and return to us (and unfortunately sometimes fail, and not return) has revealed so much – about what makes them last.
There is a clear new wave of entrepreneurial swimwear businesses and independent designers that are turning the industry on it's head. They start without the backing of huge investors/corporations. They build a following through creativity, and not with massive marketing budgets. They do so, and succeed.
The points below are what we've learnt from just those businesses; what we know from our own operations – plus a few of the checklist kind.
---
Understand Your Motivations
This is potentially the most important factor.
Did you notice a gap in the market? That's great! Do you want to cater to a trend? This can certainly work.
Did you want to create something for yourself? Or can it really be something that others can/will also want to share in?
Being able to answer these questions, and to know where you stand (at least for now) – will help you to get grounded in yourself and your idea. This helps you to honestly understand if you are creating something that can be shared with others (a functioning business). As opposed to something that is interesting to just yourself for the moment.
This can be a harsh conversation to have, but necessary – and so good for the business and yourself in the long run.
Understanding your motivations will help you to feel confident enough to create (research and execute) a line/business you believe in.
It will give you the motivation you need to really get yourself going. Not to mention the motivation you'll need down the line when you have a day where you'll need a little extra push (which does happen!).
So – why do I want to create this swimwear line? Do I believe that this will work?
Business and Marketing Plan – A.1, A.2 (and sometimes B)
Something we've noticed about successful swimwear startups and independent designers isn't only that they are aware of where they stand – but that they are ready to shift if something isn't working.
This is where Plan A.1, A.2 (and sometimes B) come in handy. They aren't plans you have down on paper, but an open-mindedness. A curious eye on your own brand – that will help you to build understanding, resilience and a better business.
That said, a written plan will certainly help you. It needn't be a lengthy book. Even a one page business plan can really help. It can pave your way, and it will be a very useful tool for you to refer to.
It can even be an enlightening document to put together. Really.
It will help you to see what the industry looks like. It will help you to identify where your strengths and opportunities are within that. This awareness will help you to feel more confident. It will help to clarify your ideas about how you would like start building your business; and it could even help you to shape it – into something that works better for you and your market in the long run.
Related Post: 11 Step Swimwear Business Plan Template
The Power of Curiosity
You can never underestimate the power of curiosity – at all stages of the process. Have a good look at what's out there (e.g. Instagram hashtag trending, trade shows, sales/industry figures). Speak to store buyers/owners and people in your target market. This could open your eyes to opportunities – and refine your business/designs – in ways that the market is really hungry for.
(Open-minded and Kind) Execution, Your Way
There is no defined or perfect time to begin. Your research and planning will reveal the things you could get started on now, and things that will take time to develop. Remember to give yourself some space to take your own steps, your way. You have your own strengths and opportunities, and how things develop will work best with these as a guide.
That said, to give you an overview, this is a smart basic flow of how it could go courtesy of startupfashion.com:
Figure Out Your Brand Identity
Do Market Research
Do Fabric and Factory Research
Create Production Materials
Figure Out Financing for Growth
Create Your Pricing Structure
Flesh Out Your Sales Channels
Make Sure all the Legal and Accounting Stuff is Covered
Create Marketing Materials and a Marketing Plan
Actually Sell
Improve Your Brand and Product
Make Sure Your Operation is Running Smoothly
Remember that a curious eye, an open-mindedness and almost a 'kind-heartedness' to yourself – in knowing that things will evolve and change (they do) – can really help in making things happen. These will also help in keeping them moving.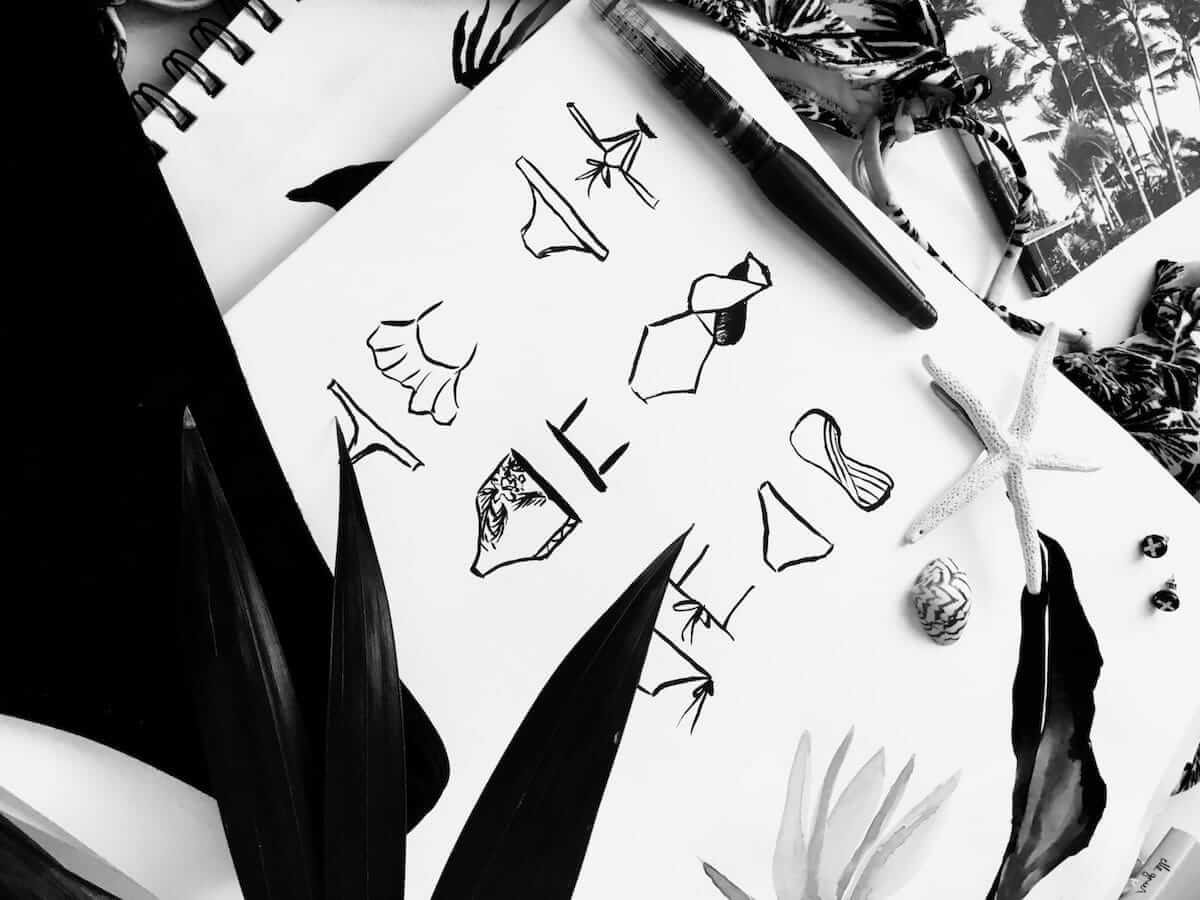 Developing Your Designs
Bali Swim Tip: The way we see it, there are two ways to go about this stage, Custom Design and Private Label.
Custom Design
If you can hire/are a designer or technical drawer – make a detailed Illustrator/CAD-drawing with measurements specs and labelled detailing of each design. Some manufacturers, like us, will accept simpler drawings, photo references, or your samples – but technical drawings will really make it a more straightforward process for everyone, i.e. get everyone on the same page.
Ready Design
These are ready-made designs that you can customize and add your label to. You won't go through a design and sample development process. You can just choose materials, colours and adjust hardware as much or as little as you wish.
The Manufacturing 'Relationship'
This section is our speciality, so it'll be a little bigger. Forgive us!
This is such a crucial step in taking your line forward. Design and operations are so important of course, but getting a good and reliable relationship going with your manufacturer will make life so much easier. There will likely be some back and forth – and so you want them to be responsive, experienced, skilled and reliable.
Questions to ask:
Specialized in swimwear? (Swimwear manufacturing is very different to other garment production)
MOQs? (Minimum orders, per collection/style/colour)
Lead times? (Sample development/bulk production/overall)
Example prices? (Per piece, development fees, etc.)
Payment terms? (Deposit %, payment methods)?
Service inclusion? (Sample development? Fabrics? Prints? Hardware?)
Ecological & ethical? (Fabric types/work conditions?)
The Manufacturing Process
Sample Development
Once your designs are developed into ready products/samples (unless you are doing private label, which omits this step). You need to really think about fit – try hire a fitting model that represents your target market well. On them, try, measure and give feedback to the manufacturer on what needs to be improved or adjusted. When fitted well, your manufacturer can grade from the sample size to other sizes. When the fits and details are as you want them, most manufacturer can provide you with either SMS (salesman samples) or PPS (pre-production samples). Both SMS and PPS are variations of your designs in colours and prints that you can use for online marketing, shoots, look-books, trade shows, sales reps, etc.
Bulk Production
Last step is bulk production where your approved samples are being produced in larger numbers. Before ordering bulk, make sure all details of the designs are completed and well-understood with your manufacturer and that your grading (sizing) are agreed on for the lot of your production.
Some swimwear manufacturers will provide you with detailed tech specs of all measurements, sample prints etc. before running bulk. You should have at least one of your styles in all the sizes you want in hand before bulk order.
Bali Swim Tip: When your bulk order is complete we then perform an independent quality control and deliver your products anywhere in the world. The manufacturer you choose may approach this stage differently.
We do hope that this write-up was useful for you. We have found the points mentioned to be consistent amongst the independent designers and brands that thrive with us. Of course technical quality makes a great product that speaks for itself and adds deeply to a brand. But there's a holistic approach that really makes up a lasting swimwear line – and we wish you all the best in grounding and growing in that!
Always,
The Bali Swim Team
If you want to get off the ground in the best way we recommend you to have a look at our Starter Kit. It contains all you need to start your swimwear line including the book How To Start A Swimwear Line. 
Related: Swimwear Manufacturing | Swimwear Fabrics
Get into the nitty gritty of all our designs on offer and learn more about how to customise your luxe label.